Our History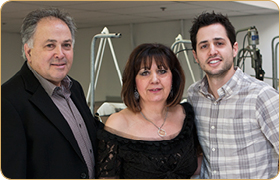 At the age of 15, Carmen Valente began his apprenticeship at a Toronto jewellery manufacture. He found so much joy designing jewellery that he decided to dedicate his life to that craft. From carving wax models to perfectly setting gemstones, he excelled at the technical aspects of the trade. The beautifully crafted, one-of-a-kind pieces he fashioned would form the foundation for his future in jewellery design.
Eventually, Carmen ventured out on his own, starting his business, Valente Jewellers, in 1971. He continuously honed his skills and adapted the latest innovative technologies into his repertoire to further improve the quality of his work. That work didn't go unnoticed. Even as a young man, Carmen's artisan-like skill drew eager clientele searching for unique, custom-made pieces that glittered with inimitable craftsmanship and sparkled with remarkable beauty. After 40 years of exceptional service and spectacular quality, many of those customers remain loyal to the Valente name, turning to Carmen's long-standing establishment for all their jewellery needs.
Today, one of Carmen's three sons, Chris, is following in his father's footsteps to keep the family's standards of excellence and keen sense of splendour intact. Graduating from George Brown College's Jewellery Art program in 2003 and its Gemology program in 2004, Chris continues to advance his knowledge by bringing cutting-edge technology to Valente Jewellers, thrusting the company to the forefront of the jewellery industry. Incorporating CAD design and laser technology into his in-house studio-workshop, Chris maintains Valente's standing as an industry leader, offering superior craftsmanship, elegant design and catering to customers every need.